Growing up working in my father's woodworking shop in Southern New Hampshire, I came to learn the value of small business and its role as a community cornerstone through weekends and summers sanding and staining furniture. Working with my hands was greatly rewarding and I enjoyed the physical toil from a day in the shop.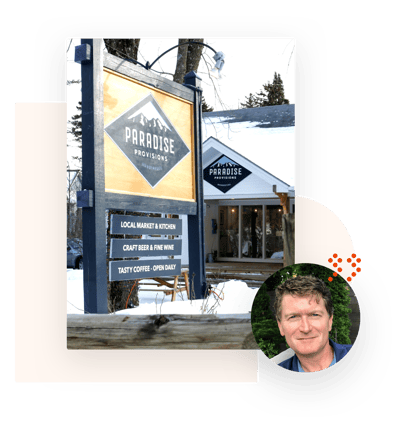 Such sentiments buzzed through my head when I heard Paradise Provisions — our family's favorite seasonal grocery store — was for sale the same time I was leaving my last job. After two decades of working in high-tech start-ups, I was ready for a break from the digital world and a return to my small-business roots.
The timing felt lucky enough to ignore the cautionary warnings from friends with retail experience to steer clear of the business. After all, my family and I had grown to love Paradise Provisions from our frequent ski trips to Sugarbush Resort.
Located at the base of the mountain, the store had a ton of potential, it just needed someone to roll up their sleeves and bring it up to date. In the summer of 2018, my wife Kristin and I bought the store thinking to ourselves:
How hard can running a little grocery store be?
A whole new perspective on wholesale.
Paradise Provisions soon revealed the answer was, in fact, extremely hard. Grocery stores are high-velocity businesses, where thin margins demand that you deliver the right product at the right time, often with a decent amount of perishability thrown in for good measure.
As we diversified our store's shelves with a wider choice of local craft and specialty food items, managing inventory and purchasing became more and more complex.
Most of the brands we added weren't available through traditional distributors and required us to place separate purchases. We soon found ourselves ordering 30 different brands in 30 different ways, adding extra time and effort to an already lengthy ordering process.
Despite the trouble, it wasn't long until shots of immune-boosting Annie's Ginger Elixirs were outselling sugary soda and energy drinks. The positive response from customers to the new mission-driven and high-margin brands was promising, but the ordering process just wasn't sustainable. It became clear that if we were going to commit to supporting emerging brands long term, we'd need a better process for managing the wholesale orders in one place. But when we looked for a technology solution that improved our ordering process and our access to emerging brands, there were none to be found.
That's when the idea for Mable was born. I knew if we were facing this problem a year into our own grocery venture, other stores must be as well.
Speaking with other retailers, it turned out that most of the 15,000 independently owned stores across the country were also placing orders through a medley of spreadsheets, monthly catalogs, emails, phone calls and texts. At a dozen orders each, that's nearly 200,000 orders a week!
The tech-entrepreneur in me reckoned with reality: if I wanted a solution, I'd need to build it myself.
A team fit for the fix.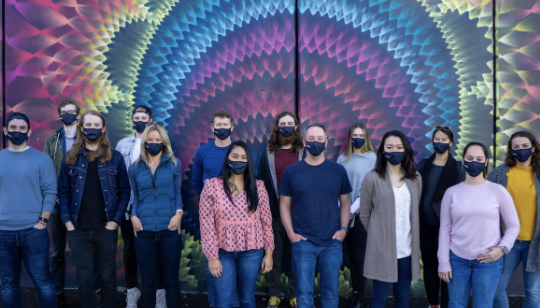 I took my time assembling a team of retail, commerce and technology experts to get Mable off the ground. I wanted to find people who not only understood the wholesale game but shared my passion for small business and the communities that benefit from them. My persistence paid off. As each new team member brought their own unique lens and experience to wholesale, a different angle to the problem at hand would be exposed.
Together, we realized the traditional grocery supply chain was inefficient and old. What modest evolution grocery distribution had experienced in the past sixty years had only helped big-box retailers and consumer packaged goods (CPGs) get bigger. It's a system that all but blocks emerging brands from getting a fair shot at store shelves today.
It was clear that a better wholesale network would soon become necessary for retailers, brands and regional distributors to keep up with today's large-scale competitors and meet evolving consumer demands.
Without a network like Mable, independent retailers, emerging brands and regional distributors would remain disconnected and underserved by an outdated system preventing them from delivering what today's consumers are asking for: innovative and better-for-you food.
Home grown Mable.
Working with Paradise Provisions' own supply network, we built Mable, an online wholesale platform that streamlines ordering from hours to minutes. For brand discovery, we designed Mable to have a sleek, searchable interface that enables retailers to easily browse and order from over one thousand brands from across the country with personalized recommendations.
As we secured more seed funding, we rolled Mable out to a greater network of retailers with a wholesale commerce experience that was simple and efficient.
When the team expanded more, we added a mobile app and new features such as barcode scanning for easy in-aisle ordering. Next, we added net 45 payment terms for greater flexibility in purchasing.
Today, Mable connects over one thousand brands to thousands of retailers and regional distributors across the country, helping buyers discover, order and re-order their next bestseller within one centralized network.
And, Mable is helping more types of retailers than I could ever have imagined. From fitness studios to boutique hotels, the movement to make better for you foods more accessible is gaining ground.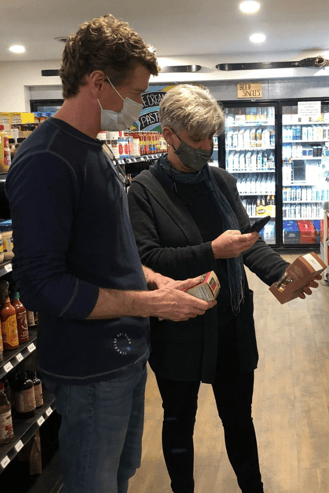 Though the idea came before the name, Mable's origin is undeniably Paradise Provisions. It is why every design upgrade, product release and new feature is extensively tested in our own store to ensure it works exactly how grocery buyers need it to.
Our ultimate measure of success remains how quickly and easily a busy store manager can get an order out to an emerging brand; because we know time is the most valuable resource in such fast-moving operations.
Many ask: What's behind the name Mable?
While the name isn't tied to one specific person, Mable is a play on the phrase, "I am able", meant to embody that busy manager behind every small grocery store. Empowered by the community of small yet thriving businesses they are a part of, they gladly lend support to their employees, customers and vendors in return. Mable represents the future of grocery distribution we aim to meet, where independent stores and emerging brands thrive.