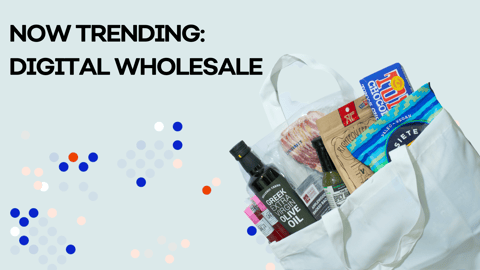 Digital wholesale - a modern way to sell directly to wholesale buyers through a b2b selling platform.
Once upon a time, there was a fairly linear path for emerging food and beverage brands to go from a kitchen recipe to the supermarket shelves.
The process went something like this. Come up with an incredible idea, outgrow the local farmers market, deliver samples to grocery buyers, and eagerly book meetings with large distributors.
Your distributor would handle fulfillment logistics, and help your brand get picked up by stores in their region.
Digital wholesale has created a new avenue for incredible products to get stocked on store shelves. The path to successful distribution and brand growth has never been more flexible!
How does digital wholesale work?
Digital wholesale is similar to selling direct to consumers online. But instead of selling products by the "each", products are sold in larger quantities, usually by the case.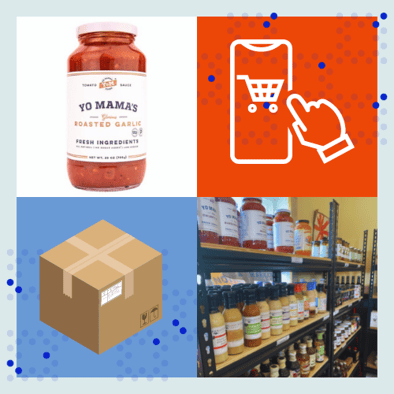 Products are listed online exclusively for wholesale buyers to purchase at the standard wholesale price. Orders get fulfilled by drop shipping them directly to the wholesale buyer.
Perhaps the best part of digital wholesale is the built-in discovery component, with groups of wholesale buyers using the service every week to find new SKUs.
With Mable, set up is free, and a small platform fee is charged to brands only on new orders that are delivered by the service.
Who is digital wholesale for?
Digital wholesale is perfect for smaller businesses that want to do business together in smaller quantities or outside of a defined territory. Flexibility and lower order minimums are key. The average order value on Mable is around $150 per vendor.
Independent grocery buyers love being able to place smaller orders without having to hit high minimums. Most small stores lack the space to store more than a few cases at a time! And, Mable provides buyers net45 terms, to make cash flow management a bit easier.
Another benefit of digital wholesale is the ability for emerging and smaller brands to sell nationally. Mable has helped hundreds of brands find new buyers beyond their existing territories and distributor truck routes.
More about Mable
Mable works with amazing brands at every stage of growth, from local granola makers, to growing brands like Siete.
The retailers that use Mable are grocery-focused wholesale buyers that support the better-for-you food movement.
Our friends at Revol Snax say it best.
"Mable has helped us expand our early-stage retail distribution by over 50% in a way that's both smart and sustainable for a bootstrapped CPG snack brand. The retailers on Mable are a mutual fit for a brand like ours since they attract consumers who are open to discovering new healthy brands with high quality products."
We couldn't be more excited about what the future holds for digital wholesale and the better-for-you food movement.
Interested in selling on Mable? Apply here!
Want to use Mable to discover incredible inventory for your store? Sign up here!
…